F330 and F450 FPV Camera Bracket/Mount
Project Completed: August 2014
Duct tape! Really?

When I decided to get an FPV (First-Person-View) camera for my quadcopter, the recommended way of attaching it to the quad was (a) duct tape or (b) the really expensive filming mounts meant for professional grade cinematography, not a 12-year-old's hobby. So I took it as a challenge and designed my own bracket using 3D modeling software for 3D printing (see photo below, the yellow mount). The bracket attaches to the drone easily with zip ties.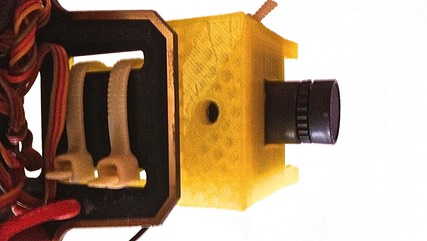 I posted the final designs of the bracket on Youmagine. I created one for my DJI Elegant F330 and one for the DJI F450.

The bracket is designed for a camera with the dimensions of 30x30x12.5mm in the main body and a lens 16mm in diameter. You can buy the camera that the bracket is designed for here but any camera with those dimensions should work.

You can buy the F330 through this link and the F450 through this link. Visit my review of the DJI F330 here.