During the weekend of June 13-14 (2014), the Texus Linux Fest was hosted in Austin, Texas. This festival celebrates the open-source and (you guessed it) Linux worlds especially. 
I was given the privilege of speaking at TXLF on June 14 during the thunder talk rounds. I spoke about getting more children interested in creating technology, and my speech was titled "Girls and Robots."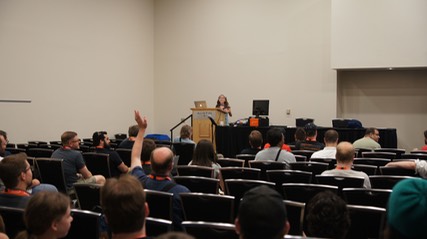 As a little background, Linux is a OS (Operating System) like Microsoft Windows or Mac's OS X. However, Linux is free and open-source. "Open-source" is a phrase used to describe technology that's free for anyone to use or adapt as they wish. Here's a link to the Linux Foundation's site… (they had representatives at the convention).
If the above link doesn't work, please copy and paste this URL into your browser window:
http://www.linuxfoundation.org/

Here is the link to the 2014 Texas Linux Fest site…
If the above link doesn't work, please copy and paste this URL into your browser window:
http://2014.texaslinuxfest.org/
At the convention, I also learned how to say, "Y'all."  :)