My Blog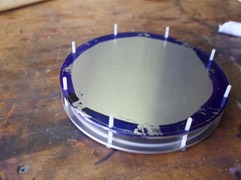 Now that all the parts were completed, I began to assemble. During assembly, I had to cut additional parts  to size, such as the nylon and brass screws and the steel connectors which go from the displacer to the crankshaft and from the flywheel hub to the piston assembly. I also cut small nylon spacers that fit around bearings on the lathe.
I started by test fitting that the ring and the two plates fit together by screwing them all together with nylon screws.
Next, I added the base block and bearing plate to the top plate.
…