A quadcopter is like a helicopter, but with four rotors instead of one or two. Official people (such as the government) call them drones, and you might have heard that word used in a negative way. Generally though, quadcopters are used for good, not evil. They are commonly used for things such as cinematography. Also, they are sometimes even used for rescuing people in large forest fires, where firefighters can fly over to see if anybody's stuck or to gauge where the fire is headed, as written about in this link: http://www.popsci.com/article/technology/connecticut-fire-department-gets-help-drone.
As the electronics parts used in building quadcopters and drones become cheaper, so do the drones themselves. The quadcopter business has grown due to these falling prices, increased functionality, and rising popularity. Kits have become available, much to my great pleasure. 
After going to a quadcopters Meetup as part of the LA Robotics Club, I got a quadcopter kit (the DJI F330 Elegant Quadcopter Kit) from Ctrl.Me Robotics in Venice Beach, CA.
Here is what the kit looked like in pieces: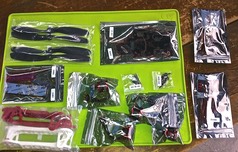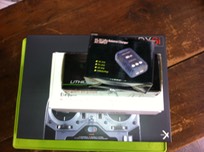 Here's what the finished product looks like with a landing gear added (not pictured in parts above):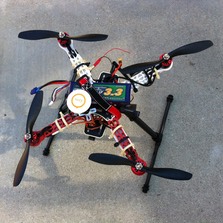 Here is a video of my first flight:
I really loved the design and make of the quadcopter and it was very easy to assemble. In addition, the parts were well labeled. DJI published a video that shows most of the parts needed for the quad and the assembly (though this was on an F450, it still mostly works for the F330).  I loved this kit.
It took me about 8-12 hours to build this kit, but that could definitely vary by experience levels. In addition, this kit required some basic soldering, which could also change the time estimate. Finally, this kit is a bit of a shell, meaning that it comes with the frame and the motors and the ESCs (motor controllers), but not with other necessary parts. For a full list of the parts I recommend, check out my checklist!
Thank you to the guys at Ctrl.Me for their excellent customer service and help with the assembly of my quad kit.
You can find info on the purchase of this quadcopter at DJI's site or go to http://www.dji.com/product/flame-wheel-arf to find a dealer near you!
Overall, I give the DJI F330 Elegant Quadcopter a 5/5 Very Happy Robots:


You can also purchase the F330's larger brother, the F450 through this link (this is actually a great offer because it comes with everything except the radio controller, battery, and charger!)