The Arduino review is up for reading and commenting!!
The Arduino is a microcontroller (mini computer). It can be easily programmed and reprogrammed to light up LEDs, function with sensors (temperature, etc.), react to buttons, display on LCDs and use many other electronics.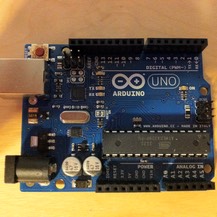 The Arduino was my first physical (as opposed to digital) programming environment and is a great way to learn about programming. If you are interested in learning about electronics, start with the Arduino.